Introducing RapidStencil, the fastest, easiest and most cost-effective solder paste stencil printer for prototyping and small production batches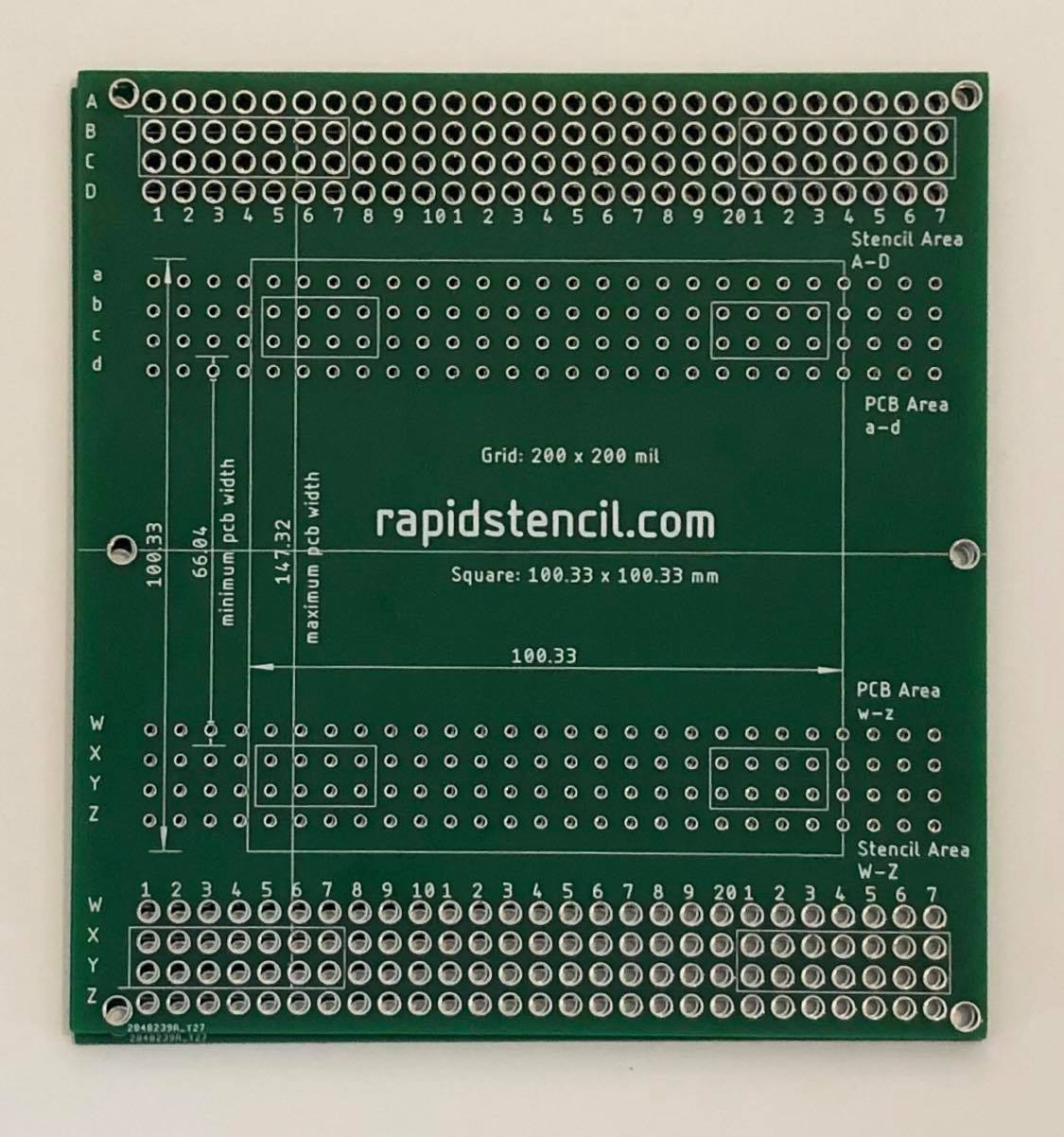 Apply solder paste to your PCBs in a few seconds. Our user-friendly design results in fast, easy handling of PCBs and stencils.
The most cost effective way to get accurate, reliable and repeatable results for SMT applications.
Save time and money by eliminating printing defects and board failures.
RapidStencil is a specially designed product and method to manually apply solder paste to PCBs – accurately and repeatedly. RapidStencil aligns your PCB and stencil, so you can apply solder paste quickly and efficiently.
Solder paste printing made easy. RapidStencil has 4 bands of holes. The inner top and bottom bands (abcd, wxyz) have smaller holes used to align RapidStencil with the PCB. The outer top and bottom bands (ABCD, WXYZ) have larger holes used to align RapidStencil with the stencil. Special metal pins are provided to keep everything together.
Accurate, fast, repeatable results. RapidStencil perfectly aligns your PCB and stencil so you can finally eliminate printing defects and board failures. For even more support, you can glue 3 RapidStencil together. Additionally, the smaller PCB pins will not protrude over the stencil, making applying solder paste a breeze.
Two RapidStencil Sizes. Choose from our nominal 10x10 size for common 10x10 cm PCBs or our nominal 20x20 size for larger boards. These are nominal sizes, so they can take 20% bigger PCBs. The specifications are listed in our FAQ.
Two RapidStencil Designs. Choose from our simple or advanced system. The simple system relies on you lifting up the stencil, while the advanced system has spring loaded pins soldered in its corners to help you lift the stencil accurately. While your hand is all that's required to keep the stencil down, our advanced system includes some weights to make the process even easier.